Here are our Favorites!
This holiday season, give the gift of knowledge, with our wide range of products. With our STEM toys and games, kids will have the opportunity to explore the worlds of science, technology, engineering, and mathematics all while having fun. These hands-on toys are a great way to nurture kids of all ages, from preschool to high school. Here are our favorites!
Start laying the groundwork for strong STEM-related skills and comprehension with this kit for early-learners. This kit will help develop early science, math, and problem-solving skills for preschoolers ages 3 and up.
Intro to Engineering welcomes young children to the field of engineering with 25 experiments and building projects in five sections. By engaging in hands-on activities, children will learn how engineers apply their scientific and technical knowledge to design machines and devices. Start by learning some engineering basics with experiments on levers, forces, and pulleys. Build simple devices using these basic components. Ages 5+.
Roller Coaster Challenge incorporates elements of a logic puzzle, while also allowing for the creativity that stems from a free-form building.  Includes 39 tracks, 36 posts. 2 tunnels, game grid, and instructions. Come with over 40 roller coaster assembly challenges of increasing complexity. Ages 5+.
Snap Circuits Motion contains over 50 parts with over 165 electronic projects all focused on motion and physics. Experiment with ratios using various gears and pulleys. Includes color changing lighted fan, air "fountain", motion detector and much more. Ages 8+.
More than 75 activities in one giant bag! Become a master mixologist, learn about chemistry, physics, biology, magnets and more! Make up a batch of Gravity Goo™, launch a 30' soda geyser, make some Insta-Snow®, use the lighted test tube rack to make a glow in the dark lava lamp — and much, much more. Incredible value! The re-usable zipper bag is great for storing all components when it's time to put your lab away. For ages 8+.
With this kit, you are able to assemble a smart super lizard with artificial intelligence (AI). Similar to the actual Australian lizard, when this robot feels threatened, it gapes its mouth, flashes its eyes, and dramatically spreads and flaps its frill in a threatening manner. Ages 10+. 
Much more than just a tower, these creations soon resemble the world's biggest game of Mouse Trap. The perpetual motion models feature tons of stunt pieces for designing loop-de-loops and hair-raising turns. A long-chain drive lift, chimes, trampolines, basket elevators, and swirling vortexes send the Chaos Tower balls rolling and flying into action. Ages 8+.

Explore chemistry with this fun and delicious kit! There is absolutely nothing like a refreshing gulp of home-brewed root beer. This easy to use kit lets you brew up a goodly batch you're sure to enjoy. Ages 8+.
Watch and be amazed at what your music can do with the new Snap Circuits Light! Connect your iPhone, iPod or any MP3 player (not included) and enjoy your music as the lights change to the beat. The strobe light with spinning patterns will amaze you with its visual effects. Just follow the colorful pictures in the manual and build over 175 exciting projects. All parts are mounted on plastic modules and snap together with ease. Ages 8+.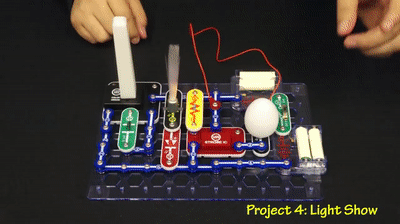 This astonishing wall-climbing robot has a motorized air suction system that enables it to walk vertically up and down perfectly smooth surfaces, like glass, plastic, whiteboards, and glossy laminates. Ages 8+.
The solar-powered robot can be transformed into 14 different robot modes which include a multitude of comical and functional movements. The user can easily change from a wagging-tail, running beetle, walking crab, surfer, speedster or to a 'zombie chaser'.